our services
---
Tyre advice
Tyre installation
Puncture repair
Wheel alignment
TPMS
Large vehicles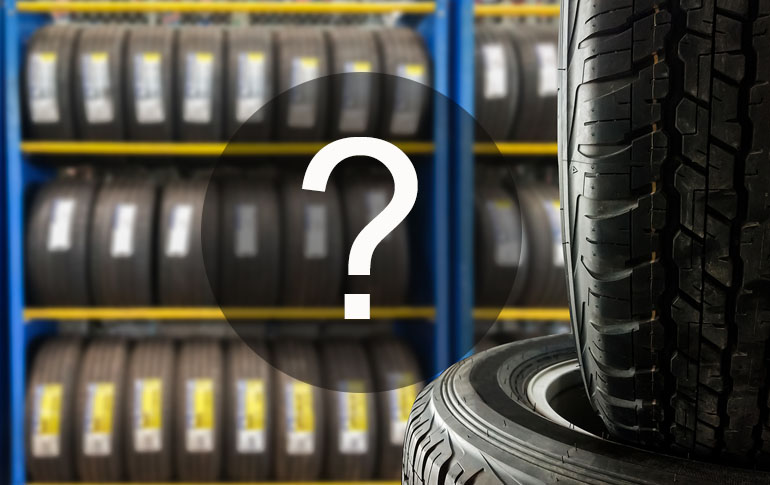 Let us help take the pain out of choosing tyres.
Which tyres are best for grip?
Which tyres are the quietest?
How long will they last?
What are they best tyres for my budget?
Which tyres are compatible with my wheels?
These are examples of the kinds of questions we are asked daily, and we're more than happy to help you with your questions.
We have decades of experience with tyres covering all manufacturers and models. We stay on top of online and magazine reviews to try and get an unbiased opinion from road tests so we can pass this information on to our customers. We also speak to our customers regularly and ask them how they're getting on with their choice and we use this feedback to help other customers.
If you'd like some assistance choosing tyres, feel free to call us on 0161 653 6101 or send over an enquiry using our online enquiry form - and we'll help assist you with your tyre choice.
We will soon be adding the ability to browse our tyre selection online - and to go with this we'll be adding a help section to help our customers understand the tyre rating system so you can get advice right here on our site - so watch this space!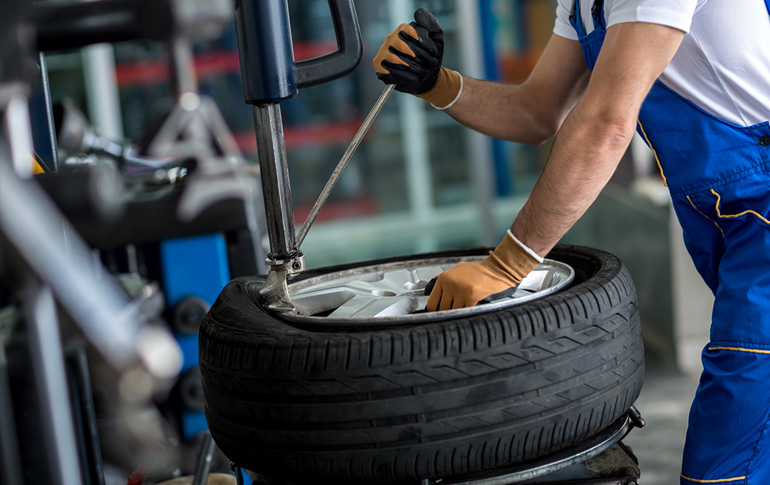 Professional tyre installation.
Each day we install over 50 tyres for our customers, covering all kinds of vehicles, and all shapes and sizes.
We have the latest wheel balancing technology and tools and can ensure your tyres are safely installed and good to go.
If you need help choosing the right tyre we'll be more than happy to check our vehicle database and help recommend tyres based on your requirements – road noise, durability, grip or performance.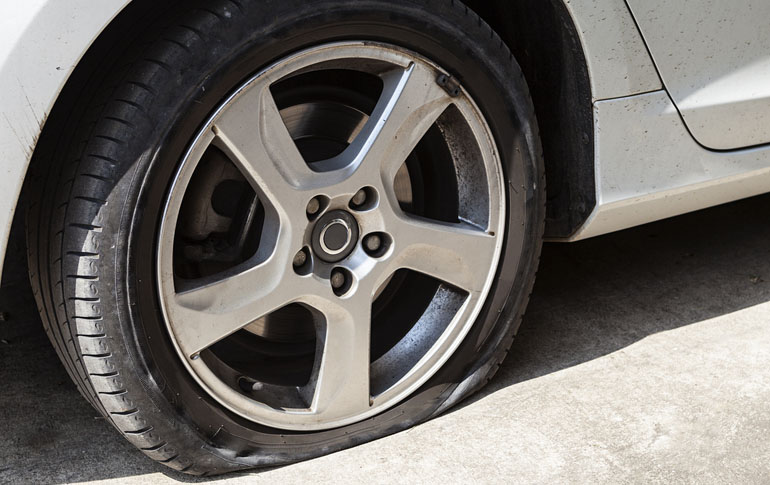 Quick and reliable puncture repair.
Everybody hates punctures - there's nothing worse when you're just trying to be on your way and the worst happens.
If you managed to change your wheel at the roadside and you want to see if your tyre is salvageable for repair - feel free to pop down to one of our garages and we'll let you know what your options are. We'll do a full test of your tyre which will reveal where the puncture has occurred. Any puncture which has damaged the sidewall can not be repaired - however if the damage is on the surface of the tyre then we may be able to use one of our puncture repair techniques to get the tyre back up and running.
Sometimes we have customers who have had a puncture and have not had a spare wheel available and have managed to drive down to our garage to have the wheel checked out. Some tyres, such as run-flats, are designed to allow drivers to safely make it to a garage - however non-runflat tyres can often suffer damage when driven on flat. If this does happen to you and you make it to our garage, we'll do our best to assess any damage and we'll let you know if your tyre can be repaired - if it can, we will.

We do advise customers to be vigilant when seeking puncture repair services – we have dealt with many cases where puncture repairs have been performed to unsafe standards. Here at CR Tyres we always perform a tyre repair procedure known as BS AU 159, a standard which sets out the "specification for repairs to motor vehicles used on the public highway" - you can read more about this procedure in detail by reading the BTMA official guide
If you use CR Tyres for puncture repair you can be assured your tyre will be safe and legal for use on UK roads once we've finished the job.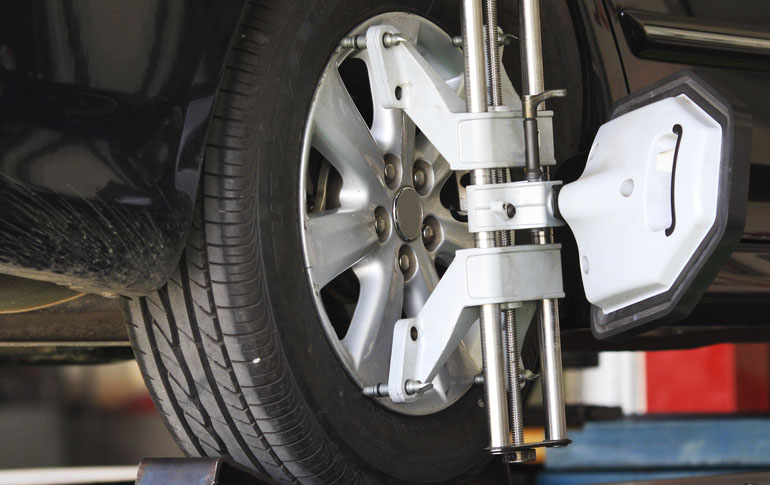 Professional wheel alignment from highly trained staff.
Correct wheel alignment improves road holding and maximises the life of tyres. Aligning the front two wheels resolves alignment issues for most vehicles, but if additional work is needed a quote will be provided.
What is wheel alignment?
Wheel alignment (or tracking) is an important part of car maintenance. It refers to the angle and direction at which your tyres are set.
Wheel alignment involves adjusting the angles of the wheels to the recommended position as outlined in your vehicle's manufacturer specification.
Hitting kerbs or driving at speed through a pothole can result in wheel misalignment. Poorly aligned tyres can affect road holding, increase fuel consumption and decrease the life of your tyres, so it's really important to check your wheels regularly.
How do I know if I may need a wheel alignment?
Watch out for these classic signs of wheel misalignment:
Uneven tyre wear
Drag or pulling
Steering wheel vibration
What equipment do you use?
We use state of the art computerised infa-red Hoffman wheel alignment technology.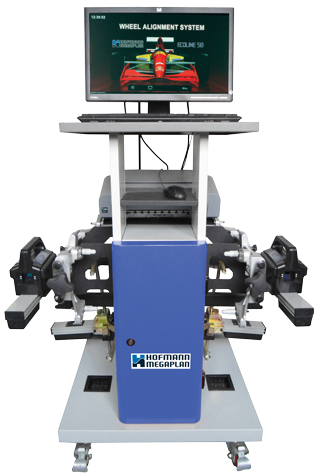 Computerised alignment enables us to provide you with a printout showing your 'before and after' - this will show the alignment geometry and measurements when you first dropped the car off, and what the alignment is after we've performed the wheel alignment - giving you confidence the car is now fully tracked.
The Hoffman device provides access to a built-in vehicle database so we know exactly what geometry your vehicle is optimised for, with live readings & technical prompts as we go through the process.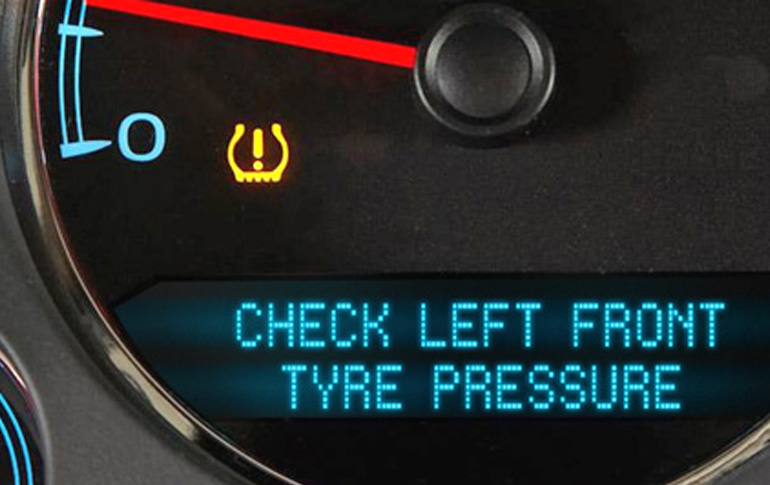 Tyre pressure management system services and diagnostics.
All passenger vehicles produced in the European Union since November 2014 should have a Tyre Pressure Monitoring System (TPMS) installed.
The TPMS monitors air pressure inside pneumatic tyres and detects low tyre pressure – this has the benefit of identifying poor fuel economy and can help prevent unnecessary tyre wear by informing drivers when an issue is detected. It usually indicates these warnings via a gauge or display on the dashboard – though sometimes this is cut down to a simple "Low Pressure" warning light.
TPMS uses sensors installed in the wheels to measure the air pressure in the tyre or to monitor the individual wheels rotational speeds. If this data shows an issue with the pressure of the tyre it will cause a warning to be displayed to the driver.
CR Tyres have the latest Tyre Pressure Monitoring equipment to read the codes returned by the on board TPMS. This means that we will be able to provide you with the available options to adjust your tyres and make you and your car or van safer on the road again. We can replace valves if they have become seized due to corrosion or battery failure in the TPMS unit itself.
A faulty Tyre Pressure Monitoring System (TPMS) is now an automatic MOT fail on cars registered after 1 January 2012 and is already catching motorists out – does your car have it and how do you know if it's working? You can read more about this on the TyreSafe organisation website
Pop down to one of our garages or call today on 0161 653 6101 to book your Tyre Pressure Monitoring service or use our online enquiry form to get in touch.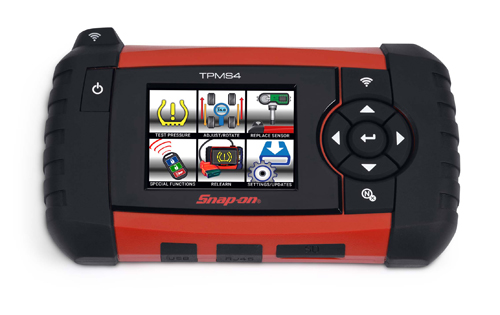 The Snap-On TPMS4 device we use to perform our diagnostics.
Professional tyre installation.
It is important to you that your fleet of vehicles can be on the road at short notice without worry of a breakdown or breaking the law. Tyres are a huge part of keeping your truck or lorry moving, which is why we specialise in providing a range of tyres for all makes and models.
We have access to suppliers who specialise in large vehicle tyres, so whatever you need to get back on the road, we're sure to be able to locate, order and install the tyres you need.
Feel free to call us on 0161 653 6101 to see what we can do for you.